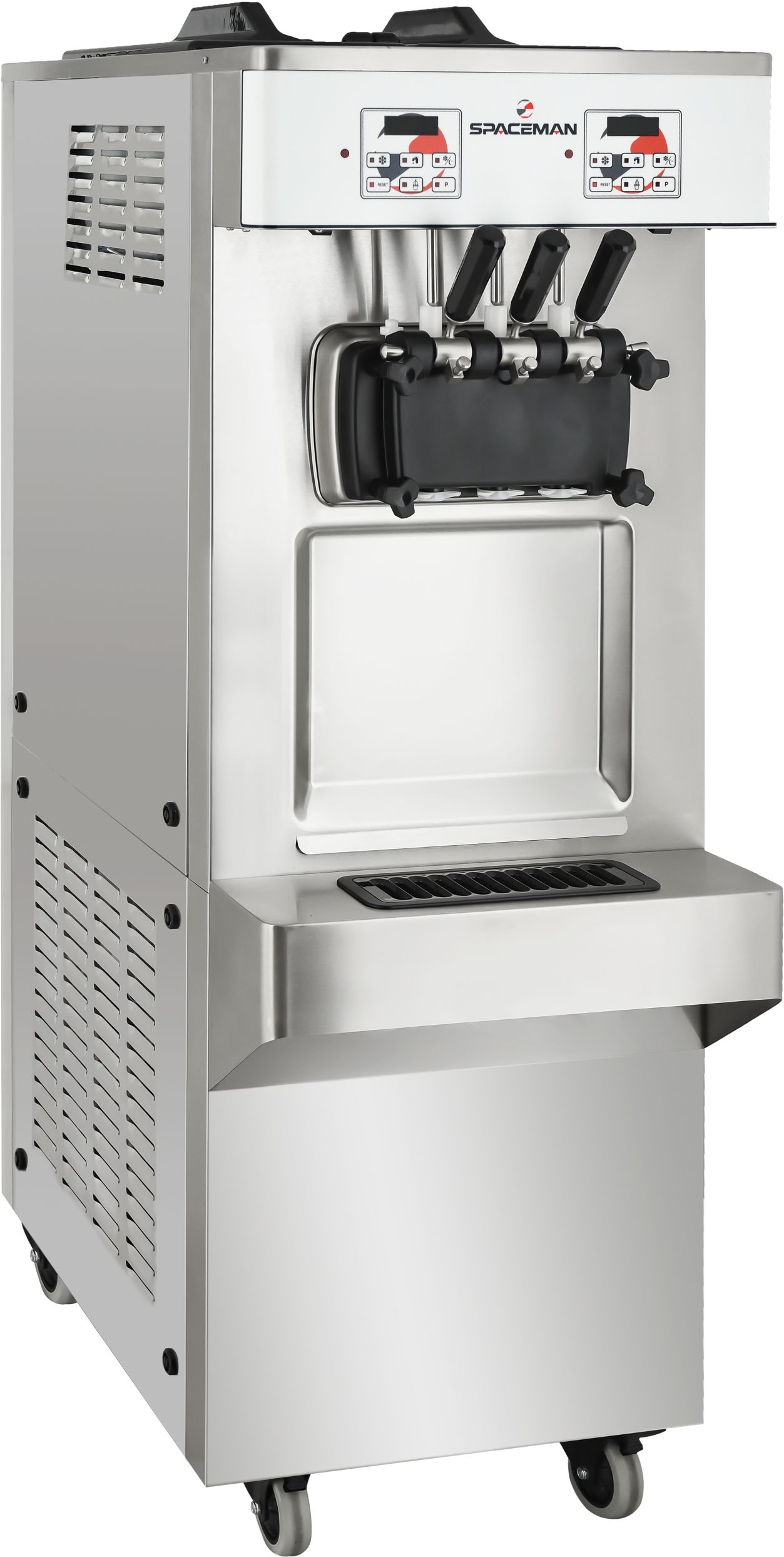 SPACEMAN 6378-C and 6378A-C
High Capacity, Twin Twist Floor Standing Soft Serve Machine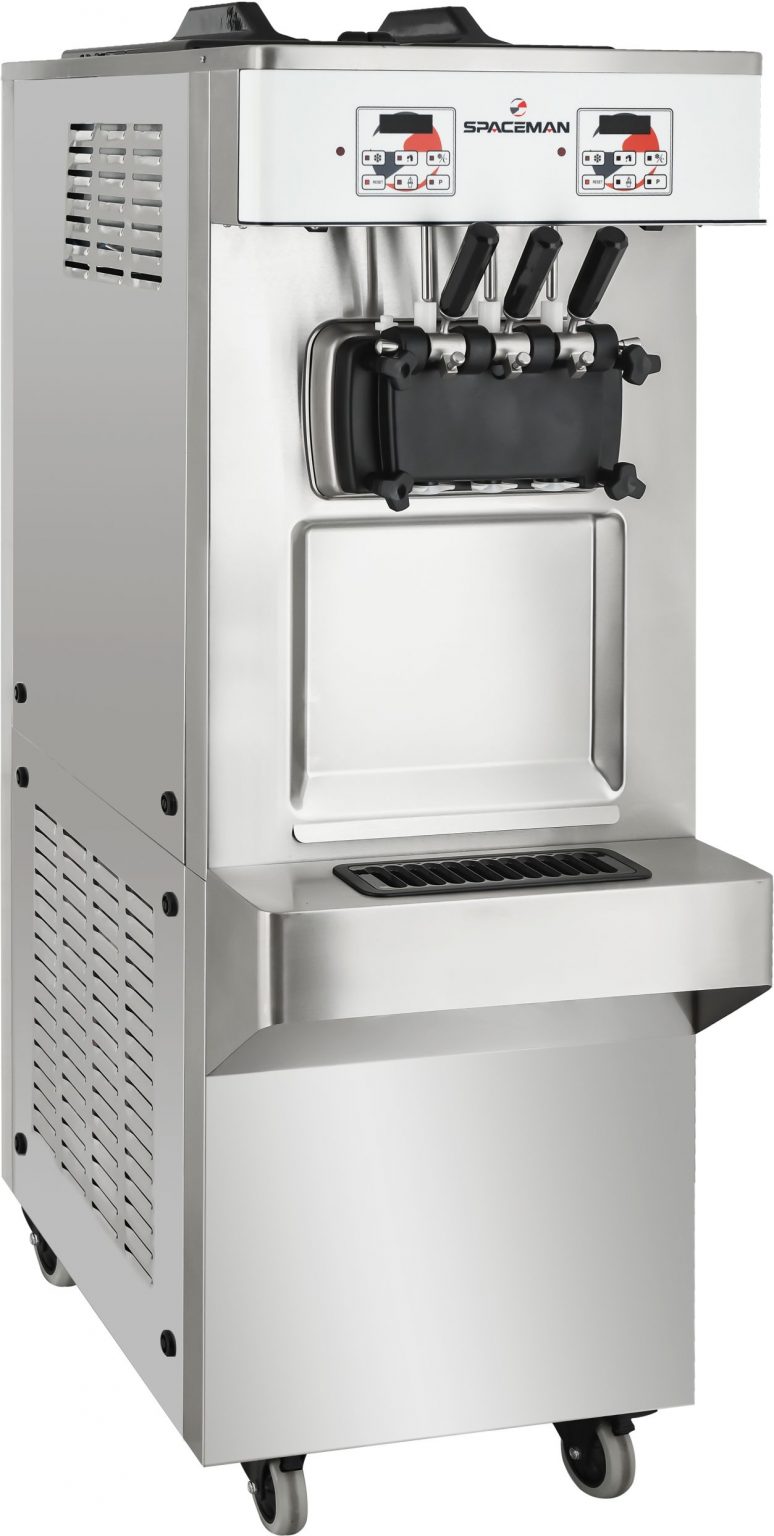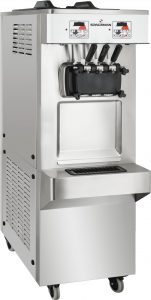 Description
The Spaceman 6378-C and 6378A-C is the premium soft serve option for high capacity businesses that want to offer more variety on their dessert menu.  Dual controls allow the operator to independently manage settings for two different flavors. Good for soft ice cream, frozen yogurt, gelato, or sorbet, this model has convenient locking castor wheels and user-friendly digital control boards to adjust settings as needed.  Hopper agitators stir product throughout the day, saving operator time and ensuring an even cool in the hopper.  Patented freezing technology on the 3.4qt cylinders means more ice cream is ready to serve at one time, producing up to 700 small cones every hour.
Spaceman soft serve freezers have patented technology to prepare and freeze product faster and more efficiently than any competitor.  Spaceman's revolutionary v2 beater and air system has reduced wearable parts by over 25% while improving product quality and overrun control.  The v2 beater and blade system scrape the cylinder walls better to ensure less ice build up, creating smoother, creamier product.  All the while, the v2 beater helix created a vacuum, pulling product through the air tube with precision product to air ratio.  The v2 beater and air tube system has been tested to hold overrun for a longer period of time than other gravity fed systems.
Choose the "A" version and go from gravity fed to a pressurized air pump system.  The Spaceman air pump system allows you to choose between six overrun settings, giving you the ability to add even more air to the product, yielding higher profits, creamier, fluffier, and lighter product.  Add an air pump anytime you wish to dip cones, swirl extra high, or get that light insta look!
Product Offering
All popular soft serve variations from low or non-fat soft serve ice cream to custards, yogurt and sorbet
Freezing Cylinder
Two, 3.4 quart
Mix Hopper
Two, 16 quart
Features
Digital Control System
Refrigerated Hopper
Hopper Agitator
Temperature Display
Standby Mode
Auto Closing Dispensing Valve
Dispensing Speed Control
Low Mix Indicator Light & Alarm
Defrost & Quick Freeze
Soft Start
Low temperature and motor overload cutouts protect from cylinder over freezing.
High pressure switch prevents compressor overheat.
Thermal overload protects from motor overheat.
Mix Hopper / Hopper Agitator
Separate hopper refrigeration maintains mix temperature below 40°F during Cool and Standby modes. Hopper agitator keeps product mixed.
Mix Low Indicator
When mix level is low, the Mix Low light turns "ON" to alert operator to add mix.
Standby
Maintains product temperature in the mix hoppers and freezing cylinders below 40°F during œ long no-use periods.
Microprocessor Controls
Automatically regulates refrigeration and maintains consistent product quality by controlling product temperature and viscosity.
Counter
Records number of dispenses per day and total number of dispenses.
Temperature Display
Displays hopper and cylinder temperature; helps control product safety.
Output
640 x 4oz servings per hour or roughly 6 x 4oz servings per minute per side.
Safety Protections
Low temperature and motor overload Cutouts protect from Cylinder over freezing.
High pressure switch prevents Compressor overheat.
Thermal overload protects from motor overheat.
Custom Options
Cart
Air Chute
Water Cooled
"A" Air pump or pressurized system
SM-6378-1130100_Spec Sheet