Soft Serve Ice Cream Machines about and finding the Right ice cream machines
Soft serve is just ice cream that is softer. There are so many anecdotes on how the whole thing started. The bottom line is that it has become a favorite among many people. This has led to the manufacture of soft serve ice cream machines. The general function that the machine serves is to aerate the ice cream. This adds the volume of the ice cream and it makes dispensation easier.
When making soft serve ice cream, the right amount of air is needed to make a quality product. The ratio has to be just right. This is why a machine is used. The air in the ice cream, known as over run, has to be controlled properly.
Soft serve ice cream machines are designed to fit different applications. The capacity is one major difference that the machines have. This is one aspect that always has to be considered when buying a machine for soft serve ice cream. If the machine is for an ice cream business, then the capacity must be higher. If the machine is needed for domestic purposes, then a small one would do.
The machines can also be gravity-fed or pressurized. With gravity-fed machines, the ice cream has to be loaded onto the hopper manually. This may take time and a lot of energy. On the upside, these machines are cheaper. The pressurized ones just use the pumps they are fitted with to keep the freezer supplied with the ice cream mix.
Recent technologies have allowed for so many modifications. Some models of soft serve ice cream machines now have LED displays. These displays are used to set the temperatures in the machines. This modification has made it easier to make soft serve ice cream. This is because any mixture used can be set with its own temperature.
There are some machines that have sound signals. These go off when the mix needs to be added. It is important to keep the cylinder full of ice cream mix. If it's not full, then it would freeze solid. This would make it hard for the churning to take place and may even break the blades in the machine. There are some models that have an indicator light in place of the audio signals.
There are some soft serve ice cream machines that have safety measures installed. There are some where the compressor shuts down automatically if the mix is not replenished within a certain time. This is to keep the compressor from burning out. There are models that are designed to release hot refrigerator gas if the mix is not added. This gas is to keep the machine from freezing and the blades from breaking.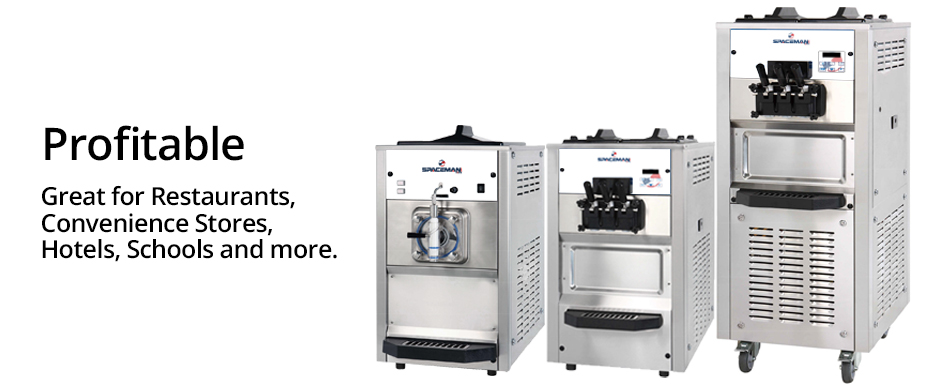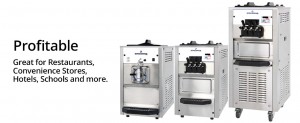 Different machines will have different designs when it comes to the freezing cylinders and the beaters. The motor speed is also different in different machines. The efficiency of a soft serve ice cream machine depends on a host of variable factors. When buying one, it is always wise to consider the power that the machine comes with. Commercial applications would require a more powerful machine. It is also recommended to get a machine that is energy efficient.
Soft serve ice cream machines are ideal for both the commercial duties as well as home purposes. The soft serve ice cream machines come in different sizes, different designs, as well as different models. Depending on the intention set for the soft serve ice cream machine, it's up to the buyer to decide on the machine that best serves the purpose.
A majority of people today can attest to it that the soft serve machines are way much better than the hard serving machines. The most common advantage that the soft serve machines hold is the capacity to combine top flavors into one core.
Soft serve Ice cream machines are quite diverse, and it is very important to be completely specific about the machine you are looking for. Generating an idea of purchasing the soft serve ice cream machines is very important, but long before you immerse yourself into agreeing with your mind it is good for you to take time. Notice that these machines will cost you a lot and it is only to your benefit to make up your mind with a clear conscience.
The soft serve ice cream machines are also somewhat expensive; therefore you are not fully restricted to buy new models. Instead, you could opt to go for the second hand varieties which you can find on eBay or Amazon in order to go in line with your budget.
Below are the tips you need to consider before buying a soft serve ice cream machine
Your electricity phase: Do you have a triple or a single electricity phase? This will guide you when purchasing the soft serve ice cream machine. Notice it will be to your advantage if you buy a machine that has a different electricity phase.
If you are buying the soft serve ice cream machine online, ask for photos of the machine from your supplier. Ask for the inside display as well; you need to exactly see how the machine looks like at all angles as well as every part of the machine. Where the flavors are dispensed in this case the freezing cylinder, request for its photos specifically. If you look carefully, you will notice that there are metal bars in this particular part, which are involved in keeping the ice cream frozen. They do that as they turn all through the process.
Confirm with the supplier if the casters are in good condition. Notice that if the units stay for a long time without being moved, the wheels then get flat which is not right. This could also tell you that the machine is not worth buying especially if the purchase is on second hand basis. It already tells you that that particular machine has had very poor maintenance.
 In addition to that, always go for a high quality soft serve ice cream machine. You may not know directly what really makes a high quality machine especially if all the designs appear similar. All you have to do is make good use of the reviews.
The ice cream business is one that will never die. As long as the sun will keep shining, literally, the people will always crave ice cream. Ice cream machines are what make the business what it is, these and the flavors. When starting up an ice cream business one of the things that should be at the top of the list is an ice cream machine. This is the one thing that you can not afford to get wrong.
When buying an ice cream machine, you must decide if you want one with a freezer bowl or one with am built in freezer. The freezer bowl machine has a bowl that has been insulated and which must be frozen before the process starts. The inbuilt freezer does the freezing automatically and simultaneously while the ice cream is being mixed.
Ice cream machines are designed with different temperature ranges. This is a very important factor. The temperature has to be well controlled. A good machine lets you preserve energy when the machine is not in use. There are also some regulations that must be followed when it comes to the temperature control. When using an ice cream machine, the mixture must always be cold. A good machine will know how to do this automatically.
Understanding how the machine works is also very important. This will help you know when there is a problem. An ice cream machine has moving parts. These parts must always be lubricated to make sure they don't wear out. There are kits that are sold for maintenance of these machines. Ice cream machines are self contained and as such every part works to complement the other. This is why check ups must be carried out regularly. This would guarantee that the machine is taken care of.
A good ice cream maker is one that can give you the product when you need it. That means getting a right sized machine. If it's for domestic use, then a portable machine would fine. The servings needed are small and therefore it is suitable. For a business however, a lager unit would be required. If you want to get good quality product, then the machine must be the right size. Ice cream machines range widely when it comes to size. There are no limitations when it comes to finding the right one.
A stainless steel unit is always preferable. There is a lot of dairy product that goes into the machine and that can cause bacterial infestation. A steel machine is easier to clean. It also does not stain and it looks good. The style and the whole design of the unit will depend on the buyer. There are some that are nicely polished with colored tops. For someone who is keen about appearance can get one of those.
Ice Cream machines come in all sorts of types. The final decision rests with the buyer. The needs of the buyer will determine what kind of machine they get. If the machine is for a business, then no expenses should be spared. That however does not mean extravagance. It just means that you should have a reasonable budget if you want to get a quality ice cream machine.