FroBot – a Vending Machine that Dispenses Frozen Yogurt from a automatic Frozen Yogurt Machine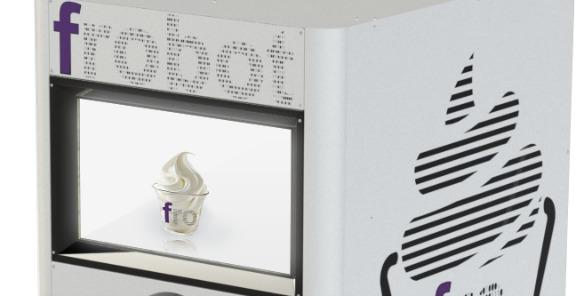 Are you hungry? No matter if you're starving or if you just want a little treat, you're sure to find a nearby vending machine that will provide you with a little something to tide you over. Vending machines are commonplace around the world. And vending machines no longer just sell a can of soda, a bottle of water, a Snickers bar, or a small bag of chips. Today's vending machines sell a wide variety  of items.
Some examples of unusual items that vending machines sell include:
Live crabs, caviar, lettuce, pizza, bananas, mashed potatoes, French fries, eggs, hot dogs, pecan pie, and much more!
But none of these out-of-the ordinary vending machines are as interesting to us as FroBot – a brand new vending machine concept that allows users to purchase frozen yogurt from an actual frozen yogurt machine that dispenses 7-ounce servings of fresh froyo in a matter of seconds. The cost of a cup of frozen yogurt from a FroBot vending machine is just $3 – which is payable only via a credit card.
Because the idea of converting an actual soft serve frozen yogurt machine into a vending machine is so innovative, it caught the attention of National Public Radio (NPR).  Extensive details about the automatic frozen yogurt machine were described in great detail in an article published on NPR's website.
The NPR article included an interview with FroBot's founders, Jeremy O'Sullivan and Melissa Nelson. NPR is an organization that describes itself as a service dedicated to "telling stories small and large that start conversations, increase understanding, enrich lives, and enlighten minds." And according to this article, thanks to FroBot, frozen yogurt machines are being taken where they've never been before.
The FroBot concept is quite simple. It involves 1) customers who are looking for a fresh snack or treat, 2) the selection of a flavor via a touch screen, and 3) a credit card payment of $3.
An article that appeared on the website SeriousStartUps.com last year describes FroBot as "the smallest single unit frozen yogurt retailer" in existence that contains a frozen yogurt machine that are "as simple (or simpler) to use than even RedBox."
The founders of FroBot are based in Southern Virginia and both attended college in a small Pennsylvania town. During their years of college, they realized they had limited options when it came to frozen treats. Over the course of several years, their idea for FroBot – the easiest frozen yogurt  machine vending machine ever invented – was born.
Unlike frozen yogurt franchises and independently owned frozen yogurt shops that require potentially hundreds of thousands of dollars to start, O'Sullivan and Nelson estimated that the FroBot automatic frozen yogurt machine  idea seemed like a much less expensive option.
Vending machine food serves a need. Even though some vending machines around the world sell unusual or unique items, the majority of  vending machines sell food that is pre-packaged. With the frozen yogurt  offered in FroBot frozen yogurt machine vending machines, fresh options open a whole new frontier!
Recent  articles that have been published on FroBot say  that the company's founders are currently beta testing their FroBot automatic frozen yogurt machine  in the field. More information on FroBot is available on the company's website, www.FroBot.net.