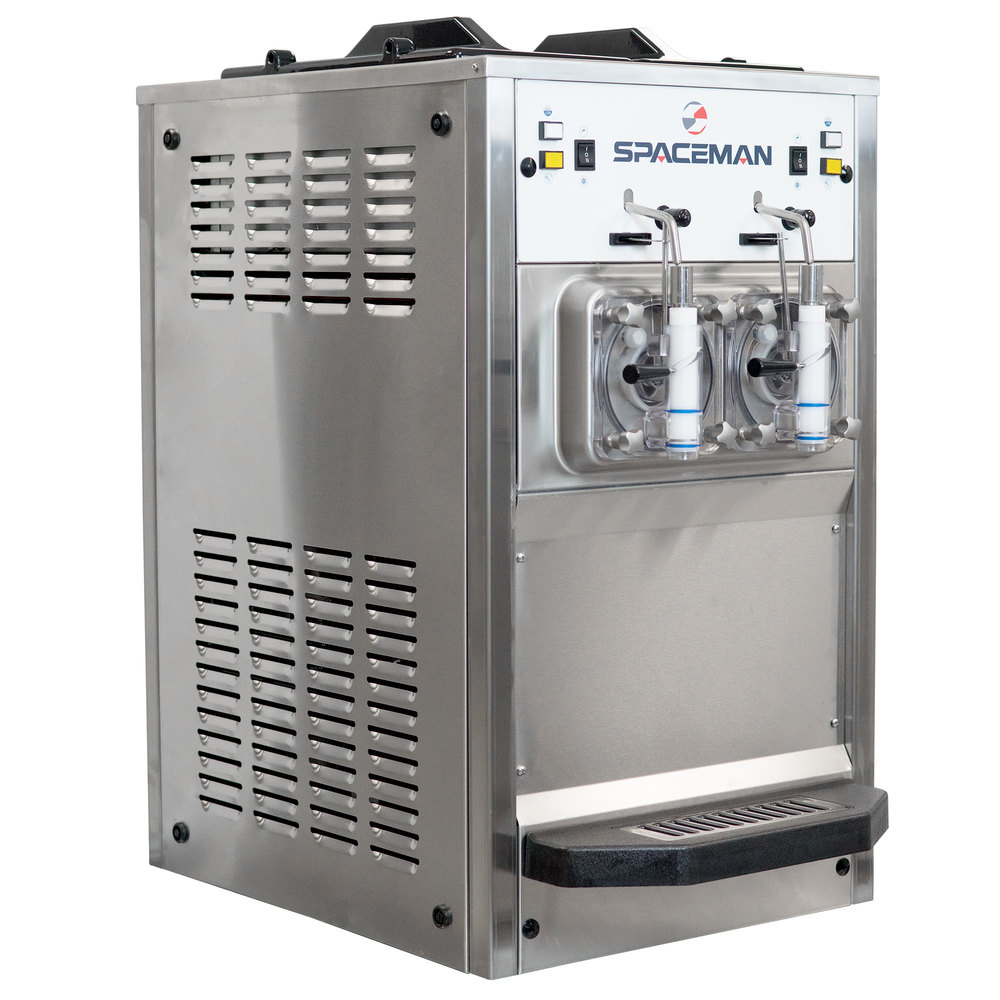 FROZEN BEVERAGE MACHINE
The Spaceman 6695H – High Capacity, Dual Flavor Counter Top Frozen Beverage Machine is Ideal for Frozen Beverages, Slush Beverages, Margaritas, Smoothies, Shakes and Frozen Coffee Drinks!
SPACEMAN 6695H – High Capacity, Dual Flavor Counter Top Frozen Beverage Machine
Description
The Spaceman 6695H is a two flavor frozen beverage machine great for high volume applications. Pre-cooling in the hopper means that this model is approved for dairy, so it is extremely versatile! Dual controls allow the operator to serve different products from either side of the machine, varying the menu with yummy options like milkshakes, smoothies, frozen coffee drinks, margaritas or slush. The convenient counter-top model is good for gas stations, restuarants and bars, mobile units or catering businesses. The hopper agitator will stir product throughout the day, saving time and ensuring an even cool in the hopper. Patented freezing technology makes for a super fast recovery time in the 7.3qt cylinder, producing 80 qts/hr or 320 drinks every hour.
Product Offering
Vary your menu by offering shakes & smoothies or fruit juices, coffees, cappuccino and tea slush beverages, all served at the desired thickness.
Freezing Cylinder
Two, 6.9 Liter (7.3 quarts)
Mix Hopper
Two, 15 Liters (15.85 quarts)
Refrigerated to maintain mix below 4ºC (40ºF)
Approved for dairy and non-dairy products.
Indicator Lights
Add Mix light alerts the operator to add mix. When Mix Out light turns ON, the unit automatically shuts down to prevent damage.
Automatic Consistency Control
Specially designed viscosity control automatically maintains superior product quality. Adjustable control allows the operator to serve a wide variety of frozen beverages at the desired thickness.
Output
80 Quarts/Hour
Safety Protections
High pressure switch prevents compressor overheat
Thermal overload protects from motor overheat
Included Options
Hopper Agitator
Custom Options
Air Chute, Light Box, Standby Mode, Spinner