There are frozen yogurt machines for sale from many vendors. How do you go about choosing the right one? We understand that not all of our visitors might be interested in a Spaceman USA product, but if you stick around to read this article we can help you avoid a lemon of a yogurt machine.
There are four main things that you need to look for when purchasing a frozen yogurt machine: the quality of the machine, the service and maintenance, support, and the functions and features of the model. You want a machine and a company that has all these factors.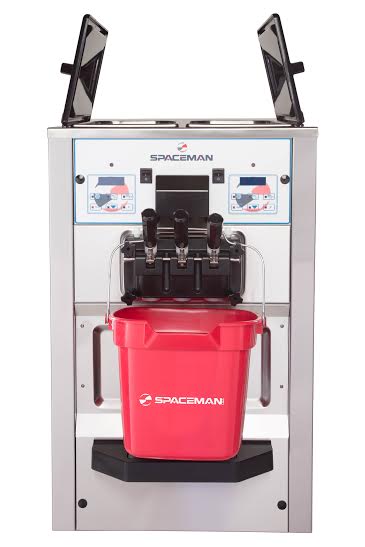 It is difficult to tell the quality of a yogurt machine without actually running product through it. The proof is in the frozen yogurt, so to speak. There are some basic things to look for though. First, make sure that the machine is certified by NSF, UL, or ETL. If you plan on running a commercial frozen yogurt business in the US or Canada, you'll need certification by one of these companies. Purchasing uncertified machines will only cause problems. Next, look at sites like thefrozenyogurtreview.com or the internationalfrozenyogurt.com to see what other business owners say about different models.
The next thing to look at is support. All machines will eventually need replacement parts. How fast can you get them? Is there a service technician near your area that can respond to emergency requests? How are the warranties? Can you get a maintenance contract on parts or inspections? You don't want a busted machine breaking your business for a week or more while you wait for parts to come in. You might be looking for another frozen yogurt machine for sale by that point. For more information check out the softservestore.com for frozen yogurt machine parts.
Features and maintenance go hand in hand. The fancier your machine is, the more maintenance it will need. The most expensive frozen yogurt machine isn't necessarily the best, but neither is the cheapest. We recommend to get one with hopper agitator(s) so that your employees don't have to stir the hoppers every hour. If you're lucky and you live close to a corporate office, you may even be able to see the frozen yogurt machine in act
You might have to pay a little more to find a company that covers all of these areas, but the rewards are well worth it. Don't waste your money on a frozen yogurt machine that is uncertified or has little technical support.