Like any great soft serve and frozen beverage machine manufacturer can tell you, you have to develop different machines to fit the needs of your customers. Very few businesses out there are one-size-fits-all types of businesses, so Spaceman USA has developed different sizes for different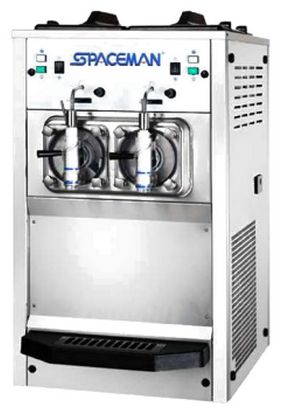 product needs. We can help everyone from the small mom and pop store that needs a countertop machine to the Mexican restaurant that regularly throws frozen margarita parties. It's all about the space… capacity, that is.
When you need the really big guns, the Spaceman 6695 Frozen Beverage Freezer has what you need. This machine has an amazing capacity and output, producing up to 65 quarts of frozen margaritas, milkshakes, and slushies an hour. It's also able to hold several gallons of products. The best feature about this machine, however, is that it's able to hold two flavors, nearly 16 quarts of each flavor. Those shop owners who experience rushes will be able to take care of their customers without missing a beat.
When you need quality output at a fast rate, the 6695 frozen beverage machine delivers on that end, as well. It comes with the same safety and quality features that you've come to know and love with most of the Spaceman slush machines. The versatility is great, as it's able to handle both dairy and non-dairy products. Easy to read indicator lights inform the operator when the mix is low, and the frozen beverage machine shuts off automatically if there is too little mix for the unit to operate properly and safely. When you're working with large quantities, it's necessary to keep the texture consistent. Spaceman thought of that, and included a viscosity control to make sure that the right texture of the product is maintained.
If you run a milkshake shop or want to throw the largest frozen margarita party in your town, then the Spaceman USA 6695 Frozen Beverage Freezer is what you need. Large quantities, quality service, and a rocket scientist on your side. Call our sales offices for more information (888) 610-5520.