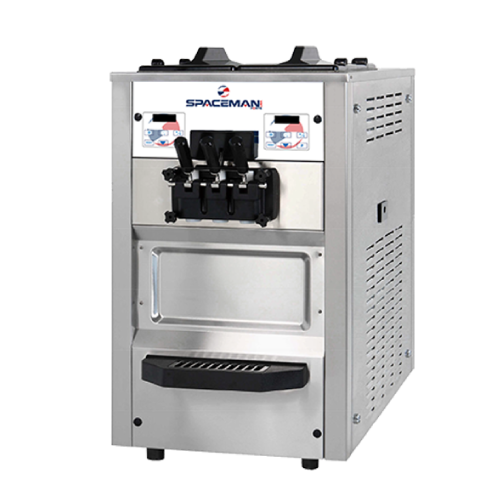 SOFT SERVE MACHINE
The Spaceman 6245AH – Pressurized, Mid Capacity, Twin Twist Counter Top Soft Serve Machine is Ideal for Ice Cream, Custard, Frozen Yogurt, Gelato, and Sorbet!
Get answers about the Spaceman USA®
6245AH before you buy. Talk with a
knowledgeable specialist NOW!
888-610-5520
SPACEMAN 6245AH – Mid Capacity, Twin Twist Counter Top Soft Serve Machine
Description
The Spaceman 6245AH is the premium soft serve option for mid to high capacity ice cream operations who want to offer more options on their dessert menu. Dual controls and compressors offer ease of mind and allow the operator to independently manage settings for two different flavors, plus swirl in the middle. Sitting conveniently on the counter top, it has a 220V connection and user-friendly digital control board. The air pump has eight different consistency settings to create creamy, fluffy ice cream good for tall cones or dipped cones, while cutting back on product cost and daily maintenance. The hopper agitator will stir product throughout the day, saving operator time and ensuring an even cool in the hopper. Patented freezing technology on the 1.8qt cylinder means a super fast recovery time, producing up to 66qts/hr, or more than 520 small cones every hour.
Product Offering
Offer all popular soft serve variations from low or non-fat ice cream to custards, yogurt and sorbet
Freezing Cylinder
Two, 1.7 Liter (1.8 quarts)
Mix Hopper
Two, 12 Liters (12.68 quarts)
Separate Hopper refrigeration maintains mix temperature below 4.4°C (40°F) during Cool and Standby modes.
Mix Low Indicator
When mix level is low, the Mix Low light turns "ON" to alert operator to add mix.
Standby
Maintains product temperature in the mix hoppers and freezing cylinders below 4.4°C (40°F) during long no-use periods.
Microprocessor Controls
Automatically regulates refrigeration and maintains consistent product quality by controlling product temperature and viscosity.
Counter
Records number of dispenses per day and total number of dispenses.
Temperature Display
Displays hopper and cylinder temperature; helps control product safety.
Output
66 Quarts/Hour
Safety Protections
Low temperature and motor overload cutouts protect from cylinder over freezing.
High pressure switch prevents compressor overheat.
Thermal overload protects from motor overheat.
Included Options
Hopper Agitator, Pressurized Air Pump
Custom Options
Water Cooled, Air Chute, Spinner